The promotion of sustainable buildings through greater awareness and use of the indicators within the Level(s) framework of the European Commission, requires continuous work on understanding the life cycle performance of buildings. LIFE Level(s) project identified a necessity to significantly mainstream building Life Cycle Assessment in order to enhance the quality and correct use of data on construction materials.
Having that in mind, the LIFE Level(s) project, guided by the Action B2 lead – Irish GBC, engaged with two consultant companies; Cambridge Architectural Research Ltd and Asociación Ecometro with a goal of developing reports on suggestions and levels of availability, quality and use of construction product LCA data. Taking into account the main European initiatives related to the LCA of construction materials and status of legislation, a platform for data categorization and methodology for the creation of a national database is shaped for four markets within the consortium: Spanish, Irish, Italian and Croatian.
In its report, Asociación Ecometro focused solely on the Spanish market. After an introduction to initiatives in the topic of life cycle analysis in the construction sector and a preview of different types of LCA data, their use and access, Ecometro provided an overview of three European databases linked to national certification system with different formats, data categorization and methodologies. Based on that, recommendations are presented for the development of a national database taking into account the Level(s) evaluation system.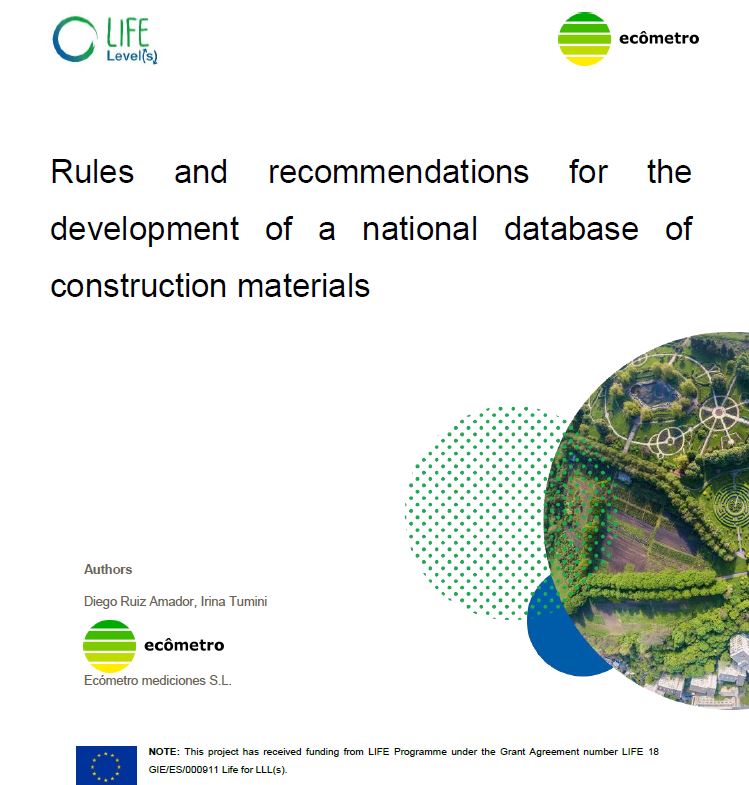 Focusing on the markets of Ireland, Italy and Croatia, Cambridge Architectural Research Ltd began the work by analysing the existing data for construction products – 10 key materials in three countries. After the EPD (Environmental Product Declaration) analysis of the 10 materials, a summary table was developed with data recommended for use within the specific country. Further work was focused on developing the set of requirements for national construction material databases. Existing platforms, data formats and variation in LCA data was considered before shaping the final recommendations on the database.
The work of both the LIFE Level(s) consortium and Cambridge Architectural Research Ltd and Asociación Ecometro on developing the recommendations on the correct use of data on construction materials proved to be of great use from several perspectives. Not only that the EPD analysis is now available for a group of products that can be used uniformly across the respective markets, but the recommendations are an encouraging push for all the actors across the value chain to strengthen the work on forming the national construction product databases based on quality data.