November
LifeLevel(s) KickOff meeting in Madrid
Project Life for LCA LCC Level(s) (LifeLevel(s)) commenced at the KickOff meeting in Madrid where eight GBC's agreed upon their responsibilities and practices with a goal of integrating the Level(s) framework with Europe's leading certification schemes and public procurement criteria.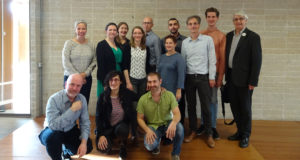 December
Getting a visual identity
Project Logo was designed to achieve stronger recognisability and visibility of LifeLevel(s)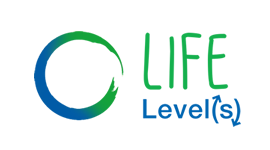 January
Selection of Schemes to be linked with Level(s)
Under the project Action B.1. selection of relevant green rating schemes which should be linked to Level(s) was executed according to the criteria of maturity, regional coverage, activity level, future potential, conformity with relevant European standards. 
February
Further coordination on a consortium meeting
European Regional Network meeting in Brussels provided an opportunity for LifeLevel(s) consortium to present the project and hold a meeting on which further actions and practices were specified and next steps forward established. 
March
Action B.1 Step 2 – Finalising mapping procedure and developing a mapping tool
DGNB, leading project Action B.1., has completed the mapping procedure to be used in assessing compliance of green building rating schemes with Level(s). To achieve a methodological approach in assesing the conformity level, detailed for LCA, LCC and IAQ, a mapping tool has been developed.
April
Kicking off Action B.2
Headed by Irish Green Building Council, Life Level(s) Action B.2 emphasizes the development of quality data on the environmental and health impact of construction products. In its first steps, suitable available data is analysed and reviewed, in order to make recommendations on how to approach inn improving its quality.
May
Action B.3 kick-off and its first steps
Under the steering from Alliance HQE-GBC, project Action B.3 aims to develop a platform for implementation of capacity building programmes on incorporating Level(s) indicators into public procurement. The first step implies understanding the requirements, barriers and challenges stakeholders face in using LCA, LCC and IAQ in public procurement.
May
Monitoring the project impact with Action C.1.
As the leading beneficiary on the LIFE Level(s) project Action C.1., DGBC is tasked with monitoring and measuring the direct and indirect impacts the project develops. In line with that, the first monitoring questionnaire for the consortium was shaped, in order to review the first steps achieved by the execution of the project actions.
August
Survey on state of the art in public procurement
Within the LIFE Level(s) action B.3, a survey was designed by Alliance HQE-GBC through which public procurers across Europe can share their experiences and challenges faced. The survey will help to produce a backdrop for a series of events that will provide ideas and solutions in integrating Level(s) with public procurement processes.
LIFE Levels(s) survey on public procurement: https://bit.ly/2PDENw5
September
Developing a methodology on EPD/LCA data availability
Carrying the LIFE Level(s) B.2 Action, Irish GBC has enlisted recognized EPD/LCA experts from Cambridge Architectural Research Ltd and Asociación Ecómetro, to develop an encompassing methodology for countries with insufficient or no generic data on the environmental impact of construction products.
December
Updating the mapping tool for assessing the conformity of national rating tools with Level(s) framework
With the finalization of Level(s) framework, LIFE Level(s) project Action B.1, headed by DGNB (German Sustainable Buildings Council), adapted the mapping tool to be used for analyzing the integration potential of leading European green building certification schemes with the Level(s) framework indicators.
LIFE Level(s) mapping tool V2: https://lifelevels.eu/materials/
February
Strengthening the LIFE Leval(s) Communication and Dissemination campaign
February
LIFE Level(s) workshops on integrating Level(s) into public procurement kicking off
Started by the B.3 Action lead, Alliance HQE-GBC, the series of workshops within which the main challenges and best practices in integrating Level(s) indicators LCA, LCC, and IAQ into public procurement processes are moving forward across the partner countries. The product of the workshops will be a best practice guide on incorporating Level(s) indicators into public procurement practices.